Organic Wuchang Rice (New Batch)
French Chateau Vendome Bordeaux AOC
Organic 300g
anelline 500 g
Certification Organization
Description
Description
Soler Romero Organic Balsamic Vinegar is produced in Jaen, Spain and certified by SOHISCERT (for the European Union) and NOP certified by ECOCERT (USDA for the US ). It is produced by using the ancestral method of wine and grape juice concentrate oxidation, using the best quality grapes, selected because of being the richest in sugars and aromatic esters. It is characterised for its bright and slightly sweet flavour and its high quality you would expect from a great balsamic. This is a perfect kitchen or table sized bottle.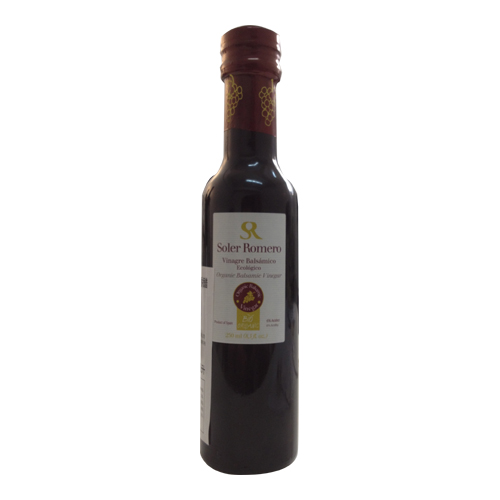 Farm
Our estate "La Majada Verde" is located in Los Noguerones, in the province of Jaen, Andalusia, southern Spain. Our estate enjoys an ideal situation, which confers to our grape an ideal environment for the organic farming and for the production of the best quality.



The region provides the perfect climate for nurturing this fruit with strong, bright sunshine and regular refreshing rain throughout the winter.
The whole extension of La Majada Verde is exclusively cultivated using organic agricultural techniques. We pay special attention to the application of spontaneous vegetable covers, which do not alter soil´s composition, structure and biodiversity, and which in turn, prevent erosion and soil degradation. This environmental respect preserves and increases soils fertility through the optimum use of natural resources, with no use of synthetically chemical products and increasing the biodiversity.
We compost and recycle all the waste from the grape groves, as leaves and branches, and byproducts of balsamic vinegar production. This organic compost is used to cultivate our grape trees.
The mill is located in the estate, and has been designed in production of balsamic vinegar. We do strict control of temperature, and use Oxygen free methods in the process to prevent oxidation and preserve all aroma and antioxidants.